Senior Account Service Representative (Head Teller) – Full Time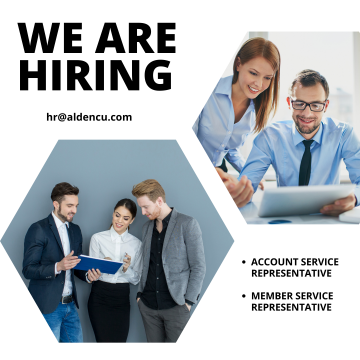 Full Job Description
Alden Credit Union is currently seeking a Senior Account Service Representative (Head Teller) for our main office in Chicopee. We are an Equal Opportunity Employer.
Summary: Provide service to credit union members by processing various transactions, asking discovery questions, and referring members to appropriate departments within the credit union.
Essential Duties and Responsibilities:
Assign duties and work schedules to subordinate staff to ensure efficient functioning of the teller line in accordance with guidelines and policies established by supervisory staff in absence of the Account Service Supervisor.
Project a positive and professional attitude.
Demonstrate exceptional member service to our members both in the branch and on the telephone with professionalism and courtesy, responding efficiently and knowledgeably within authority. Promote this practice within the branch.
Back-up to Account Service Supervisor in their absence.
Greet members with enthusiasm and stand while processing transaction.
Receive and process checking and savings deposits and withdrawals; verify cash and endorsements and ensure validity of documents; review proper identification when appropriate; and issue receipts for transactions.
Accept loan and mortgage payments, verify payment amounts and payment coupons for accuracy; issue receipts.
Accept property tax bills and send to the loan servicing department for payment.
Answer basic member inquiries regarding interest rates, service charges, and account histories while complying with disclosure requirements, regulations, and consumer privacy policies.
Refer members to the appropriate department when issues cannot be resolved at the teller line.
Close accounts upon request.
Balance cash drawer daily.
Scan and verify branch checks through Check 21 system
May open and close branch, office and/or vaults, under dual control. Sets alarm as necessary.
May sign Official Bank Checks within authorized limits
Assist tellers with daily cash balancing and to assure that the branches end of day settlement is accurate and complete.
Count record and audit currency in cash, cash machines, cash recyclers and ATM machines.
Process incoming mail.
Perform teller duties as needed and ask discovery questions to identify opportunities to cross-sell credit union products and services.
Perform teller duties in other branches when needed.
Train and educate new staff upon request.
Perform other related tasks as requested.
Maintain a neat and orderly teller work area.
Follow all credit union policies and procedures.
Work overtime if necessary
Promote overall BSA Compliance by adhering to all BSA and OFAC Regulations specific to job function and by assisting BSA Department as necessary with any departmental function specific items.
Will actively promote the security and privacy of member and employee information through adherence to both information security and physical security policies, procedures, and governing regulations. Training will be completed at least annually for Information Security topics, BSA, and GLBA; annual BSA training will be position specific. Annual training will also include courses on any of the following regulations as they relate to the position described herein: SAFE ACT, Regulations B, C, D, E CC, DD, and Z as well as any training deemed necessary to promote adherence to applicable regulatory requirements.
Supervisory Responsibilities: This job has supervisory responsibilities in the Account Service Supervisors absence.
Qualifications/Requirements:
Ability to read, analyze, and interpret written and oral instruction.
Ability to present information and respond to questions from members of management and credit union members.
Ability to add, subtract, multiply, and divide in all units of measure, using whole numbers, common fractions, and decimals.
Ability to define problems, collect data, establish facts, and draw valid conclusions.
Education/Training Experience:
High school diploma or GED and three months of successful cash handling required or enrollment in higher level of education with financial focus. Prior customer service and sales preferred.
Physical Demands:
The physical demands described here are representative of those that must be met by an employee to successfully perform the essential functions of this job. Reasonable accommodations may be made to enable individuals with disabilities to perform the essential functions.
While performing the duties of this job, the employee is regularly required to use hands to finger, handle or feel; reach with hands and arms; and talk or hear. The employee is frequently required to stand. The employee is occasionally required to sit and walk. The employee must occasionally lift and/or move up to 20 pounds. Specific vision abilities required by this job include close vision, distance vision, peripheral vision, depth perception, and ability to adjust focus.
Work Environment:
The work environment characteristics described here are representative of those an employee encounters while performing the essential functions of this job.
The noise level in the work environment is usually moderate.
Job Type: Full-time
Education:
High school or equivalent (Preferred)
Experience:
Cash Handling: 1 year (Preferred)
Banking: 1 year (Preferred)
To apply: Email your resume to hr@aldencu.com or visit our main office at 710 Grattan St. Chicopee, MA 01020